"Law, Rules and Economic Performance" A Conference in Honor of Svetozar Pejovich Faculty of Law, University of Belgrade September 9-10, 2012.
You may download the Conference Program here.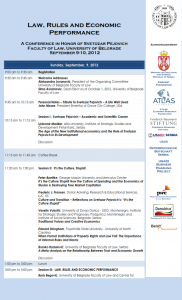 The Faculty of Law University of Belgrade pays tribute to fifty years of the distinguished scientific and academic career of Svetozar Pejovich, Professor Emeritus of the Texas A&M University by organizing a Conference in Honor of Svetozar Pejovich entitled "Law, Rules and Economic Performance". Svetozar Pejovich graduated from the Faculty of Law University of Belgrade in 1955 and received a Ph.D. in Economics from Georgetown University, USA in 1963. In 2005 Professor Pejovich became the recipient of an honorary Ph.D. from the University of Belgrade. He is listed in the second and third editions of Who Is Who in Economics.
Svetozar Pejovich has written eight books and five monographs, edited nine books, and contributed chapters to thirty books written by other scholars. In addition, he has published about one hundred articles in professional journals and various magazines. His books have been translated into Serbian, Croatian, Chinese, Korean, Hungarian, and Spanish. Throughout his lectures and writings he tirelessly communicates his intellectual commitment to institutional arrangements favoring the rule of law, credible private property rights, and contractual freedom; the basic principles of classical liberalism and methodological individualism; the exchange culture of capitalism that promotes self-determination and self-responsibility, rewards performance, and cultivates risk taking; and the disapproval for the political distribution of wealth, collectivism and welfarism.
The Conference will start with a discussion on the introductory paper concerning the overall scientific contribution and intellectual impact of Professor Pejovich. Other sessions will be devoted to papers and discussions related to a range of topics to which Professor Pejovich has been intellectually committed. Participants were invited to submit papers related to the range of topics to which Svetozar Pejovich has contributed: Economics of Property Rights and Transaction Cost Economics, the Rule of Law and Economics, Economics of Institutions and Systems, Organization and Behavior of Firm, Economics of Transition, Culture and Transition, Entrepreneurship and Growth, Economic Analysis of Law. The collection of papers will be published.   
The Conference will provide an opportunity to discuss the understanding of the fundamental institutions of a free society by analyzing and expounding the role of markets in solving economic and social problems. It will also focus on the significance of the classical liberal tradition in the context of the current economic crisis. On a more general level , the Conference will provide a unique opportunity to discuss the relevance of Professor Pejovich's work and the ideas he has spent his career developing and expounding.