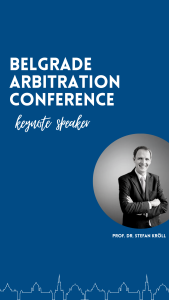 The Program for our XIII Belgrade Arbitration Conference is now finalized and can be accessed here.
There is no registration requirement. Just make sure that you arrive on time at the University of Belgrade Faculty of Law, Bulevar kralja Aleksandra 67 on 24 March 2023.
The Conference starts at 13h in amf. V at the Faculty.
As you will see from the program, the Conference topics include some of the legal issues pertinent for this year's Moot problem.
We also have the honor to have Prof. Dr. Stefan Kroell with us as a key note speaker. The official opening of the Pre-Moot will take place right after his speech in amf V.
Registration for the Pre-Moot will start on the same day in the entrance hall of the Faculty from 16h to 19:30h. The teams will receive their ID cards as well as the coupons for the subsequent cocktail that will be organized in restaurant Berliner, which is within 5 minutes walking distance from the Faculty. Drinks and catering therein is sponsored by our partner and co-organizer the DIS. Please note that coupons are required for free drinks.
The pre-moot rounds will take place over the weekend from 11, 15 and 17h, according to your team schedules. The location of hearing rooms can be accessed here.
Please note that some of the hearing venues are not at the Faculty, but instead in the premises of our organizing partners – Belgrade law firms.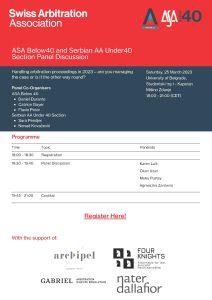 On Saturday, March 25, starting from 18h – there is an under-40 event organized by our Arbitration Association under-40 section in cooperation with ASA. Details of the event, as well as registration form can be accessed here.
To stay on top of recent technological tools for lawyers and join the social audio app built for young lawyers, please read the letter of our sponsor Platforum9 and reserve your spot at this new platform.
On Saturday evening our famous pre-moot party organized by Moravčević, Vojnović and partners in cooperation with Schoenherr will take place at the Belgrade City Museum at Resavska 40b (also within the walking distance from the Faculty). The tickets for the party will be handed out on Saturday at the Faculty of Law. Please make sure that you get your team tickets on time, as this is an invitation only event and cannot be accessed without the ticket. For glimpse of an atmosphere from our past event check out the party IG page.
For Sunday evening we have reserved, like in the past, Red bar in Skadarlija district. You can meet your pre-moot friends there and celebrate the successful completion of the pre-moot.
We are looking forward to seeing you soon!